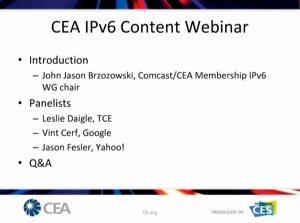 How can you make your content available over IPv6 and ensure the optimal customer experience? That was the topic of a excellent recent webinar from the Consumer Electronics Association (CEA) on September 16, 2014, featuring these panelists:
John Jason Brzozowski, Comcast (and CEA IPv6 Working Group chair)
Leslie Daigle, TCE
Vint Cerf, Google
Jason Fesler, Yahoo!
The session is now available for your listening and viewing at:
https://consumerelectronics.adobeconnect.com/_a89885078/p2d42e4ygya/
The abstract for the session is:
While some mainstream content providers have enabled their content to be available over both IPv4 and IPv6, a large population of the same continues to be available only over IPv4. Join this webinar to learn why making your content available over IPv6 is critical to the IPv6 transition and more importantly to ensure an optimal customer experience. As part of this webinar, manufacturers, service providers and retailers in the consumer electronics industry will learn why support for IPv6 is important as the steps required to ensure popular consumer electronics are enabled to support and actively using the same.
It was great to hear Leslie Daigle again (given that she used to be involved here) and she started out the session providing statistics about IPv6 and speaking about the impressive growth we've seen over the past few years.
Vint Cerf spoke next and first talked about Google's strong commitment to IPv6 and then discussed what is happening with Nest thermometers (owned by Google) and the new "Thread" protocol being advanced by a group of companies as a method of enabling the "Internet of Things (IoT)". Thread is based on IPv6 using the 6LoWPAN technology and provides a powerful way to interconnect devices and services. (I'll note that earlier this week there was apparently a gathering at Google's California campus where many people involved with Thread met and provided an update on the project.)
Jason Fesler then spoke about the business case for deploying IPv6 for content providers. His number one reason was that companies need to "ensure the best possible user experience for our customers." He noted that it is not a matter so much of what IPv6 brings us, but rather what is the future of IPv4. He talked about the challenges of carrier-grade NAT (CGN) and how it limits the ability of a content provider to optimize content for an individual user. He also spoke of the dangers of CGN in potentially blocking an entire network due to a single bad actor. Jason then discussed how Yahoo! is preparing to make its web sites and content available to IPv6-only networks, as they do expect to see more of such networks in the years ahead.
After the presentations there was a lengthy Q&A session and more ongoing discussion.
This CEA Webinar was the second in a series of webinars about IPv6. The first was last month and focused on IPv6 and broadband. My colleague Phil Roberts wrote about that session (and participated in it) and provided the link to the archive of that session.
It's great to see these sessions coming from the CEA and we look forward to future webinars!
If you want to get started making your content available over IPv6, please visit our Start Here page to find resources available to help you. In particular, the IPv6 information for website owners and content providers may be of great help.