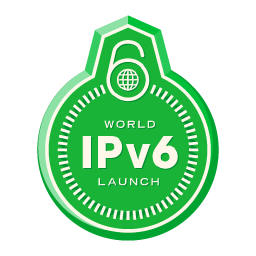 What will YOU do today to help accelerate the deployment of IPv6?  Today, June 6, 2014, is the second anniversary of World IPv6 Launch and two years later the growth of IPv6 is going very well – "up and to the right" as our colleague Mat Ford writes!   But as Phil Roberts wrote on the ITM blog, "The effort is more like a marathon than a sprint, and persistent effort is still needed."
WE NEED YOUR HELP!
Today, on this second "Launchiversary" we are celebrating by posting new IPv6 case studies (and more on the way today!) and promoting some of the many IPv6 resources that we have collected on this site.  Here are a couple of ways you can help with this celebration:
1. ASK YOUR ISP WHAT THEIR PLAN IS FOR IPV6! – If you don't have IPv6 yet at your home or business, could you take a moment today and contact your ISP and ask them what their plan is?  Email their help desk… file a ticket in their issue-tracking system… call into their contact center… or contact them on Twitter or Facebook… or do all of the above!  As Vint Cerf said in a webinar earlier this year, we have to erase this idea that "no one is asking for IPv6". If everyone reading this article could take this simple step… and encourage people they know to do so… we would go very far in helping erase that idea!
2. LEARN HOW YOU CAN DEPLOY IPv6 IN YOUR NETWORK – To help, we recently added our "Start Here" section to the site to help people more rapidly find the resources they need to get started with IPv6.  Please check those pages out… and if you don't find enough info to help you get started, please let us know so that we can see what we can do to help you!
3. START WITH A SMALL PROJECT – Figure out some small way you can experiment with IPv6.  For instance, here are two things you can try:
Or read one of the IPv6 ebooks available out there.  Here are two good ones:
Or if you are a developer, look at some of the libraries your application uses and figure out if they support IPv6.  See if there is one step you can take today!
4. READ AND SHARE (AND CONTRIBUTE!) IPv6 CASE STUDIES – There are some who doubt that IPv6 will really happen… yet we are publishing case studies showing how it is happening already today on a large scale.  Please read those… and share them!  Email them to people who you think should be aware of IPv6.  Tweet them on Twitter or share them on Facebook and Google+.  Let the world know that companies all over the world are already making the move!
And if you have made the move to IPv6, why not tell the world about it?  Even if it is not a formal case study like we have here… why not tweet out that you have IPv6 on your network?  Or write a quick blog post?  Or share that story in some small way?  (And we're glad to retweet/re-share and otherwise amplify stories we see out there.)
5. CELEBRATE! – Two years after World IPv6 Launch we have made significant progress!  If you have done something to help move IPv6 forward… either in the past or today… please do take a moment to celebrate today!   As Vint Cerf said, we are in the process of turning on the "production" Internet – let's make it happen!
Happy 2nd World IPv6 Launchiversary!