Here at ICANN 50 in London (where I am focused on DNSSEC sessions) it was great to connect to the WiFi network and find that that I had full IPv6 connectivity.  Here's a shot of the IPvFoo plugin for Chrome when I went to the main ICANN 50 website:

Even more fascinating was how much faster the IPv6 connectivity is here versus IPv4, undoubtedly because most of the 2,200+ 3,300+ attendees are using primarily IPv4.  Using Comcast's Speedtest we wrote about back in February, I was amazed to see the dramatically different speeds:

I was so surprised that I had to run Comcast's speed test several more times and test against multiple different servers. (Yes, I'm a network geek who is fascinated by this kind of thing!)  All of them gave similar results… one even offering an even higher IPv6 upload speed:

Sadly, I don't have any large videos I need to upload to YouTube or anything like that, because clearly this ICANN 50 network would be the place to do so! (Assuming the sites were all over IPv6, as YouTube is.)
To double-check, I also went to ipv6-test.com's speed test, where IPv4/IPv6 is also differentiated, and again saw a difference (it seems to only test download speed):
![CDATA[york]]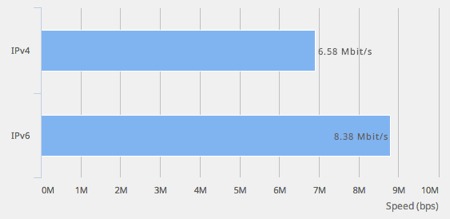 All in all it is great to see that not only is ICANN offering IPv6 connectivity to all attendees… but it is faster than that over IPv4.
Way to go, ICANN!
---
UPDATE: Article updated with the information that there are now over 3,300 registrants at this ICANN meeting!