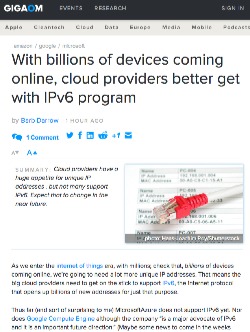 Over on GigaOm today we were delighted to see the article "With billions of devices coming online, cloud providers better get with IPv6 program".  In that article, author Barb Darrow writes:
As we enter the internet of things era, with millions; check that, billions of devices coming online, we're going to need a lot more unique IP addresses. That means the big cloud providers need to get on the stick to support IPv6, the internet protocol that opens up billions of new addresses for just that purpose.
EXACTLY!
This is a key point we've been making in our events and presentations – with all these many devices coming online, and also with 3-4 billion more people to come online, we need to move to using IPv6!
In the article, she goes on to note that IPv6 is NOT supported by Microsoft Azure, Google Computer Engine and most of Amazon Web Services.  She does point out that IBM Softlayer does support IPv6 as will a new "Verizon Cloud" service apparently coming out later this year.  (All of which has made me note that we need a page on this Deploy360 site about "cloud services that support IPv6".)
A few weeks back I asked a friend of mine who has an Internet of Things (IoT) startup whether his new service supported IPv6.  He runs his system, not surprisingly, on a cloud platform – in his case Amazon's Elastic Compute Cloud (EC2) – and because EC2 doesn't have IPv6, he can't run his apps over IPv6.
We need to get there.  We need all the cloud providers to be enabled for IPv6, because they will then enable all the companies, large and small and everything in between, to make the move to the "production" version of the Internet.
Barb Darrow mentions in the GigaOm article that "the device population explosion pose to cloud providers and the very architecture of data centers will be a hot topic next week at Structure", where Structure is GigaOm's conference on the whole "cloud" topic.  That sounds great… although in looking at the agenda I don't see anything specifically mentioning IPv6.  Hopefully that is a topic that gets covered and maybe we'll be able to write about some of the IPv6-related news next week.
UPDATE: In a comment to this post, Barb Darrow indicates that IPv6 will be a topic in the Structure panel "What has to happen to enable the infrastructure to support IOT?"  And indeed, to support the Internet of Things (IoT) we very definitely need to move to IPv6!
Meanwhile, if you are a cloud provider – or anyone else – do check out our "Start Here" page or just browse through some of our IPv6 resources to get started with the move to IPv6!