Wow! The pace of IPv6 deployment is rapidly accelerating! This morning Google's IPv6 measurements crossed the 3% milestone just under five months from when the 2% milestone was crossed.  Prior to that it had taken 11 months to go from 1% to 2%.  The growth path is certainly heading in the right direction: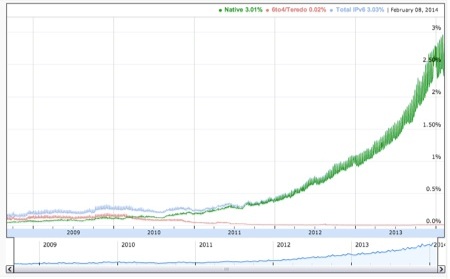 To be clear, what Google is measuring here is the percentage of users that access Google services over IPv6.  Given the range of IPv6-connected services that Google offers, including YouTube, Google+, and Gmail, these measurements do provide a good view into the amount of IPv6 deployed in access networks around the world.
What is driving this growth?  In a post on our Internet Technology Matters blog, my colleague Phil Roberts writes:
More operators in more countries are deploying IPv6 and increasing the size of their subscriber base that use the technology. You can see the list of networks that have measurable IPv6 deployments in the World IPv6 Launch. You can also look at the Google country graph of Europe to see that there are substantial deployments in Switzerland, Belgium, Romania, Germany, and France, for example. The IPv6 traffic from Belgium alone has almost doubled in the last month.
As Phil notes, we recently predicted IPv6 will get to 10% deployment this year and while that may be an aggressive prediction it is very clear that IPv6 is no longer something that will be mythically deployed "some day".  IPv6 deployment IS happening… and more rapidly than ever!
If you haven't been thinking about making your content available over IPv6 and/or making your network work over IPv6, now is definitely the time to do so!  Please check out our IPv6 resources and please do let us know how we can help you make the move!