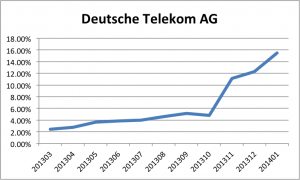 The latest World IPv6 Launch measurements are up, and as noted in a blog post by Mat Ford, Deutsche Telekom has shown impressive growth over the past few months with this month's metrics showing that 15.50%
Also rather significantly you can see in the list that now over 40% of the traffic coming from Verizon Wireless' network is all going over IPv6! This is all through the fact that Verizon Wireless' LTE network support IPv6.
The cool part of these World IPv6 Launch measurements is that they are a combination of data collected by Google, Facebook, Yahoo and Akamai. All of those sites are available over both IPv6 and IPv4 and so the sites are measuring the connections that come in to their sites over each protocol.
This shows that as access networks roll out IPv6 availability the content providers are very definitely seeing the connections coming in to their sites over IPv6!
The networks around the world are changing over to IPv6!  If you are a website operator or provide other content online, have you thought about how you can make your content available over IPv6?