Covering roughly 1500 km by train and car over the two days, the trip began on Saturday morning at the train station in Delhi to reach Baran, some 10 hours away. The goal of the trip was to meet and talk to the local people who are benefiting from the W4C project that the Internet Society and DEF are sponsoring. DEF's Lead Engineer, Shahid Ahmed, has developed this "barefoot wireless network" in Baran, which is now maintained by localmembers of the local community support that he has trained himself and who have gone on to become multipliers, training many others. We learned first-hand about how this project is directly impacting over 50,000 lives that are now connected to the Internet.
Following our six hour train ride to Kota, we arrived at Sindhu Hospital which acts as the main tele-medicine center where doctors connect with 10-15 patients a day live over a web cam to diagnose illness and prescribe medication. Sindhu Hospital is part of a government funded NGO program and now services the several wireless sites in Baran as a result of the W4C project which is saving the local folks time and cost to travel to the nearest major town, Kota, which is 50 km away.
Our second stop in Bhanwargarh, a village three hours away from Kota, is where the first network tower was built accompanied by solar panels to generate the needed electricity to run the network. Shahid has set up the technical infrastructure and solar energy at this location and continues to train others localsly so they can learn how to maintain the network.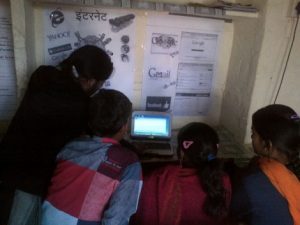 This center provides food, shelter and education to girls whose families cannot provide the financial support needed to advance their education. Also, at this location, kids can take advantage of e-learning opportunities online in a computer room with four computers, access a physical library with books, science equipment and health information and even become part of the live radio broadcast show that was created onsite and is now reaching other villages in Baran managed by the children.
One teenage girl who was trained and educated at this location has moved on to continue to spread her Internet knowledge at our third location and is considered the local "Internet Activist". She now teaches others about using Facebook and other online tools to help develop a presence online. Currently she has 15 Facebook friends across the entire network that services the Baran villages, which is amazing considering this has been a largely unconnected community till W4C arrived.
Our third stop in Khadela included a small center where locals can gather and use this online learning facility. This location has one computer and leverages the Internet to process and track government subsidized wages and address labor issues such as payment problems, unfair treatment and timely processing. As online information is helping to educate the village, the process of managing local wages has become faster online and the time and cost to travel to the government facility located more than 50 km away is no longer a factor. This site is also used as a monthly meeting place for the village to discuss and work together to address labor issues within the community.
In addition to the online collaboration, one young man decided to branch out and start his own "shop" where he offers document services to locals such as printing birth and death certificates as well as licenses and other legal documents. Using the wireless network, a workstation and his phone, he is able to access the Internet for profit and makes roughly $200 a month USD offering these types of services.
Our last stop in Mamomi included visiting a children's learning center which was made possible also through the new wireless network and now offers online education opportunities to those that visit. Many stop in for a few weeks sort of like "camp" like to get exposed to using a computer, learn Hindi online and how to use Google and other tools for online educational purposes. The center Manager was trained by Shahid just as in the other centers so he can not only maintain the network tower and IT equipment, but also repair the solar panels and address electricity issues if they arise. In addition this facility also produces packages and ships the locally known gooseberry candies to nearby markets and other villages.
As this work continues on the ground across a total of seven centers in Baran, new project sites are being targeted for 2014 in Indonesia and Burma. The dedicated staff of DEF and the project promoters likeother project sponsors like the Internet Society will not only help India get connected, but changes thousands of lives in the process through online education and holistic community development.