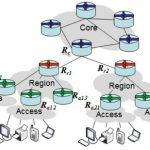 How should you plan out your IPv6 addresses? What is the best way to allocate IPv6 address blocks to your various networks and subnets? What factors should you be considering when mapping out a plan for how best to use your IPv6 addresses?  These are all great questions and were in fact topics I covered in two recent IPv6 webinars – but we're very pleased to announce two recent documents that go into this topic in great detail (and we've added both to our new IPv6 Address Planning page):
The first IPv6 address planning document is one written for our Deploy360 site by Tim Rooney at BT Diamond IP after he was reviewing our IPv6 content roadmap and contacted us about writing this document for our web portal.  It's a brand new document that we're publishing for the first time today.  Tim does an excellent job walking through the issues around why you need an IPv6 address plan, how you should set one up, suggestions for how to number subnets and then several examples of exactly how you could allocate addresses to subnets based on a plan.  He concludes with some recommendations and observations.
It's a solid document that I think will be quite useful for anyone starting out with IPv6.  We greatly appreciate Tim's contribution to our site and thank him for the time he spent on the document.  (And we're always open to new contributors!)
In a bit of synchronicity, the great team over at SURFnet came out with a new version of their IPv6 address planning document last week.   They first came out with this document in 2011 and with the help of RIPE NCC made it available in both Dutch and English.  In this new and improved version they've changed the flow of the text a bit and added in more information.  The document starts out with a brief review of IPv6 addressing and then gets into the details of creating an address plan. It provides some excellent suggestions and recommendations and includes some detailed examples of how you could structure an address plan.  The document also contains sections around how you manage the assignment of IPv6 addresses out to end devices (hosts).
This document, too, is an outstanding document for anyone getting started with IPv6.  Thanks to the SURFnet team for coming out with this new version!
While the two documents cover similar ground, they both offer provide different and useful perspectives on how to create an IPv6 address plan.  The combination of the two documents will be quite helpful for anyone looking to get started with IPv6.
We strongly encourage you to read both documents (and please do share them with others!) and provide any comments and feedback back to the authors.  We've added them to a new IPv6 Address Planning page where we will also be adding other resources on this topic (and please let us know if you are aware of some resources we should consider adding). Now… let's get those IPv6 networks deployed!