When we began what would become the Deploy360 Programme about 18 months ago, we were concerned about how our activity regarding promoting DNSSEC deployment would be seen by other groups already active in the space.  For instance we were very aware that there was the DNSSEC Deployment Initiative, funded by the U.S. Department of Homeland Security (DHS), that had been very active for a good number of years.  The program had spawned a whole series of DNSSEC-related tools, a blog, the dnssec-deployment mailing list and other activities.  How could we best complement this existing work?  And would we be seen as a helpful new addition to the overall work?  Or would we be seen as a competitor to be distrusted?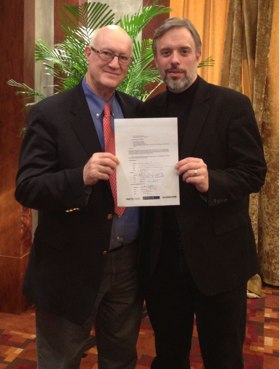 We were concerned and tried to step carefully as we began.  To our delight what we found was a very welcoming community that was very appreciative of the energy and platform that we were bringing to the effort. Over the past year in particular we have worked very closely with both Steve Crocker and his team at Shinkuro, Inc,. and Russ Mundy and his tools-focused team at a company originally called SPARTA and now part of a larger company, Parsons.  We've been working now with them on a variety of projects, including the monthly "DNSSEC Coordination Calls" that bring together people from across the community and industry interested in promoting and advancing the deployment of DNSSEC (and anyone is welcome to join the dnssec-coord mailing list).
And so it is with great pleasure that we can announce a formal Memorandum of Understanding (MoU) between the Internet Society, Shinkuro, and Parsons related to our combined efforts.  The MoU document, now posted to our site, explains the history and roles of each entity and reaffirms our joint commitment to doing all we can to work with the rest of the larger DNS community to bring about the full deployment of DNSSEC around the world.
Steve Crocker and I had a chance to jointly talk about this MoU and our combined effort at the Internet Society Advisory Council meeting held in Beijing in April. The photo accompanying this post shows us holding the signed MoU.  Russ Mundy was also there earlier in the week for the DNSSEC Workshop that we are all involved with that take place at ICANN meetings.
The signing of this MoU is an endorsement of the work we are already doing together – and a commitment by all three of us to work together to use the open multi-stakeholder process to involve even more people and organizations and to help the broader world understand how DNSSEC can significantly upgrade the security of the Internet.
We're looking forward to continuing and expanding our work with Shinkuro and Parsons – and all of you!  Please join us… you can join the dnssec-coord mailing list, join into the DNSSEC communities on social networks or email, follow us on social networks, come to one of our ION conferences or the DNSSEC workshops at ICANN meetings… or just keep following us here on the site!
Let's get to work and help get DNSSEC deployed everywhere!