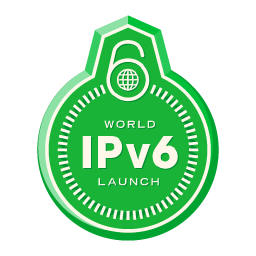 This Thursday, June 6, marks the one year anniversary of World IPv6 Launch.  As we stated in a news release today, the growth in connected IPv6 users has more than doubled since June 6, 2012. In fact, the IPv6 measurements page shows even greater growth in some networks.  For instance, Verizon Wireless, who we recently wrote about having 25% of its traffic over IPv6, now is closer to 31%!
Our colleague Mat Ford dove into the growth over the last year, and includes a variety of charts, in a post on our Internet Technology Matters site: One Year On – IPv6 Deployment Since World IPv6 Launch. Mat also highlights some of the major networks that have rolled out IPv6 in the time since last year's launch.
Over the course of this week, we'll be talking about IPv6 here on this site and promoting links and information across our various social media channels (you are following us, right? 🙂 ).  There will also be a good bit of information flowing out through the World IPv6 Launch social media channels at:
We encourage you to follow those channels to get the latest info and join in the celebration.
Speaking of joining in, it's been a year since World IPv6 Launch – have you made the move to IPv6 yet? 
If not, why not?
We've got a great bit of information about IPv6 to help – and we're always looking to learn what we're missing and how we can help.  As we are continually writing about on this site, the time is NOW!
How can we help you move to IPv6?