Do you want to see where DNSSEC has been deployed around the world? We're now delighted to publish a series of maps showing DNSSEC deployment on a global and regional basis. The maps can be found here:
http://www.internetsociety.org/deploy360/dnssec/maps/
The maps are created by Shinkuro, Inc., and we are publishing them with their permission and support. The maps will be updated regularly and we'll be updating the page periodically when there are major changes.
You are free to use the maps in presentations or other materials. Note that there is a high-resolution PDF file for the global map. For those looking to see the trends, there is also an animated GIF that shows the deployment trend over the past as well as into the future (based on public statements around future deployment plans).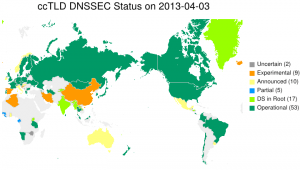 We're pleased to bring you these maps… and look forward to the day when even more of the map is colored in green!