Editor's Note: This is a guest post by Mirjam Kuehne from the RIPE NCC. We cover RIPE Labs content on Deploy360 regularly, so we thought we'd give Mirjam a chance to explain what RIPE Labs are all about and how to get more out of the site. 
---
How did hurricane Sandy affect the Internet? How much filtering is still going on in previously reserved IPv4 address space? How many IPv6 prefixes are announced per country? You can find answers to all these questions on RIPE Labs.
RIPE Labs is a website maintained by the RIPE NCC that serves as a platform for network operators, researchers and developers to expose and discuss Internet-related tools, ideas and analyses. It is a place to keep up to date about technical developments, announce your latest results, share comments or start a discussion.
The RIPE NCC uses RIPE Labs to propose new services, describe prototypes of new tools, and announce new functionality of existing tools and services. In this way, the Internet community can get involved early on in the process and provide us with feedback and direction. RIPE Labs provides regular updates on the wide range activities we are currently involved with, from the development of RIPE Atlas and RIPEstat, to our involvement in Internet governance. Some of these projects are featured on separate pages so you can follow the developments and updates more easily (e.g. RIPE Database, RIPEstat, RIPE Atlas).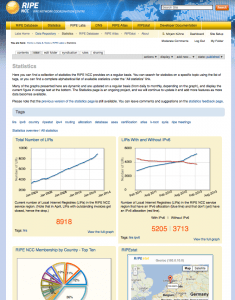 RIPE Labs also contains timely analyses, such as the impact of certain events on the Internet. During the Olympics and other sport events, we teamed up with Euro-IX and published a series of graphs that showed the change in traffic for IXPs during such events. Another example was superstorm Sandy, when we used RIPE Atlas to analyse the way traffic was rerouted once the storm made landfall. (https://labs.ripe.net/sandy-2012).
RIPE Labs is also used by external contributors to present their ideas or any tools that might be of use to others in the community. A recent example is the announcement of an IPv6 toolkit.
Providing statistics and analyses of the data the RIPE NCC maintains is an important part of RIPE Labs. Now all of these different graphs and statistics are in one place, the Statistics Dashboard: https://labs.ripe.net/statistics. There you can find the most up-to-date number of RIPE NCC members, statistics on IPv6 deployment in our service region, country-specific graphs, and much more. Some of these statistics are also highlighted on the homepage of RIPE Labs.
In the coming year, we are planning to expand the Statistics Dashboard and will continue to add graphs. We also plan to make it easier to provide feedback to the RIPE NCC, for example by running short polls and by frequently updating and publishing a roadmap for all our technical projects that are still under development.
If you would like to see any specific statistics or any other topics covered on RIPE Labs, please do not hesitate to contact us at labs [at] ripe [dot] net. We are looking forward to your ideas and suggestions.