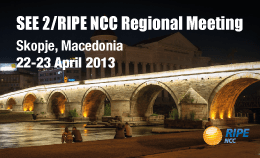 The second South East Europe (SEE 2)/RIPE NCC Regional Meeting will be held at the Aleksandar Palace Hotel in Skopje, Macedonia, on 22-23 April 2013. These forums provide an opportunity for network engineers and other technical staff to share knowledge and experiences, and to identify areas for regional cooperation.
The goals of this meeting are to:
Encourage the cooperation of operators from countries in this region enabling them to exchange information and discuss the issues that affect them
Enable the RIPE NCC to further support Local Internet Registries (LIRs) in this region
Present the latest developments in the Internet industry and to identify, discuss and solve the specific issues that affect operators working in this region
I'll be there to present a "Best Current Operational Practices – Efforts from the Internet Society" talk. The full agenda isn't posted yet, but expected topics include:
IPv6 (in general)
BGP and routing
Network management and monitoring (BSS/OSS/NMS)
Internet exchanges
DNS/DNSSEC/IDN
Policy and regulatory aspects
The Call for Papers is open until 11 February, so we encourage you to submit a proposal yourself.
The event will be held in English, and registration is already open. The meetings are open to anyone and there is no cost to attend. Don't miss out on this meeting if you are from the region…