Want IPv6 deployment statistics?  Want to use an interactive map to see the global deployment?  Over the past few months, Cisco's IPv6 Lab has rolled out a very cool new IPv6 statistics site at:
We recently added a resource page about the site and added it to our list of IPv6 statistics sites.
Pulling data from a wide variety of public sources, the site displays the statistics via an interactive map at a global or country level. As Alain Fiocco wrote in a very detailed blog post announcing the 6lab statistics site, there are a number of ways to interact with the data:
Simply mouse over the world map to see aggregated metrics per country.
Select your favorite "data type" to see more details for each metric.
Click on "world-scale data" or click on a country to display historical data.
The site also has an information page that explains the methodology behind the site and the sources used for the data.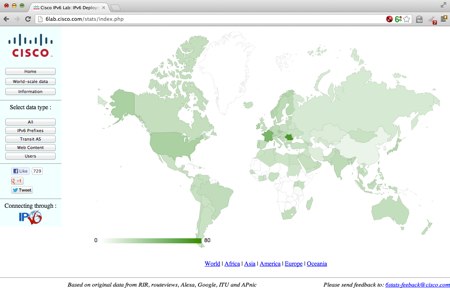 Alain Fiocco goes into a deeper analysis in his lengthy blog post describing in more detail what they are trying to do with the site. He also indicates there, and has confirmed this via email to us, that these statistics are being updated daily and they are continually looking at ways to improve the site.
It's a great way to visualize the data and we're pleased to see that Cisco has made this available.  Kudos to Alain and his team for making it happen.  If you are interested in IPv6 deployment statistics, please do check it out!