This Sunday, September 30, 2012,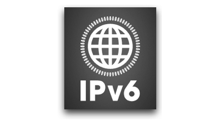 marks the deadline for US federal government agencies to make their public web services available over IPv6 according to an Obama administration mandate established two years ago.
The reality is that all US agencies will not make the deadline which, somewhat predictably, has generated media stories slamming the government for not moving fast enough.
But that's the easy path to take, particularly in an election season when attacking the government is basically a sport in the U.S.  However, when you dig a bit deeper, the story is really quite an amazing accomplishment.  Consider these points:
Most agencies did not have a plan for deploying IPv6 publicly prior to the mandate being established two years ago. Earlier IPv6 mandates (in 2008) had focused on making IPv6 available on agencies' network backbones, and some agencies did go further with IPv6 deployment plans but most had not progressed farther.
The IPv6 mandate did NOT include any additional funding. There was no magic pot of "IPv6 money." Agencies were simply directed to make it happen.
Agencies already had existing contracts with network operators and other vendors.  These needed to be modified to include IPv6.
The US government is a massively distributed, "loosely coupled," large enterprise with a huge number of discrete entities with different policies, administrations, processes, networks, IT infrastructures, etc.
In light of all those points, the fact that per NIST's recent snapshot close to 50% of the US government domains have made progress on IPv6 is quite remarkable: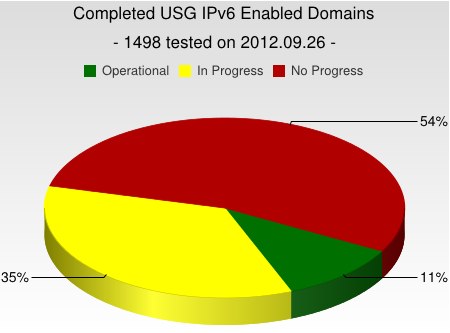 NIST's list of US government websites [1] currently shows 326 sites available over IPv6 and in a recent Network World article Carolyn Duffy Marsan quoted Christine Schweickert of Akamai saying that they will have "an additional 300 to 400 federal Websites dual-stacked between now and Friday the 27th" so we can expect to see that number grow much higher in the next few days. (To understand how Akamai is helping, view our video about how content delivery networks (CDNs) can IPv6-enable websites.)
Reading the list of US government sites is quite fascinating as there are sites there that I had no idea even existed: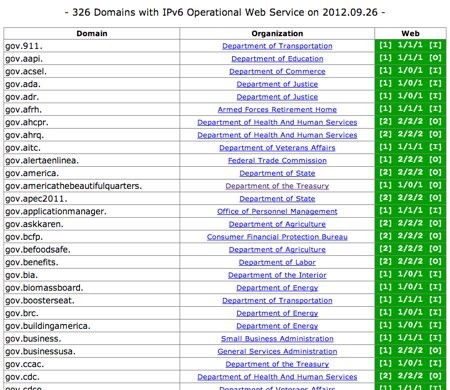 NIST also has a detailed page showing details of the USG sites being tracked for IPv6 deployment.  The page contains the following information:
The number of network interfaces configured for IPv4 and IPv6.  Note the nuance here – this graph is not the number of web sites but rather the number of servers that are enabled for IPv6.  Those servers could of course host multiple sites.
IPv6 deployment trends over time.  The growth is great to see.
Deployment details for each site being tracked.
This last section is quite interesting as it shows the details being the snapshot graph I included above.  Here you see precisely which services agencies have turned on and which are not yet available:
You can also click on the name of any agency to get detailed statistics for that particular agency.  (NIST also provides another page showing IPv6 deployment by agency that breaks down the IPv6-enabled domains by individual agencies.)
There's obviously a bit more "red" on that chart than they'd like, but it's encouraging to see the amount of green appearing as you scroll down. As noted in the Network World article, this is more progress at a government level than most countries have made. And, if you look at the stats NIST is tracking for the broader industry and universities, the US government is well ahead of both sectors in IPv6 deployment: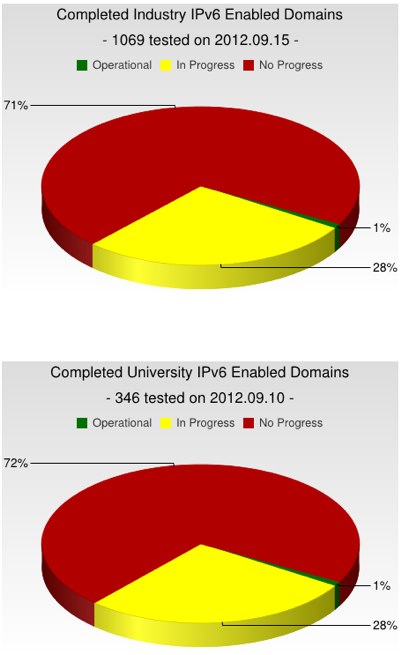 We are looking forward to checking the statistics on Monday, October 1, to see how many agencies did in fact meet the deadline. In the meantime we certainly commend those US government agencies that have made the leap and enabled IPv6.
P.S. Want to learn more about how you can get started with IPv6, check out our online resources to help?
[1] This page is called "World IPv6 Launch Sites" as that was what it was originally created for, but NIST has continued updating it as new sites come online.