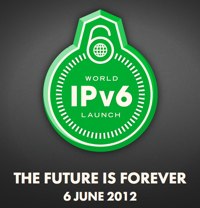 World IPv6 Launch starts in just about 34 hours, at 00:00 UTC on Wednesday, June 6, 2012.
What are YOU doing to be part of the event?
Have you enabled your website(s) to be available over IPv6?
Have you set up your home network with IPv6?
Are you already one of the thousands of participants in the Launch?
Are you ready for the day when the Internet gets a "new normal"?
If not, how can we help you get ready?  Check out our list of IPv6 resources – or let us know how we can help you.
If you are all ready and are participating, why not record a quick video and tell us about what YOU are doing?
On Wednesday, we'll be celebrating with videos and blog posts telling the story of how the Internet is changing… we'd love to include your story as part of that mix!