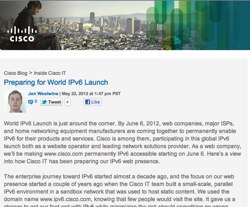 How did Cisco prepare to participate in World IPv6 Launch? What did they have to do internally? What testing did they do?
With the big event only 2 weeks from today on June 6th, 2012, Jon Woolwine explained on the "Inside Cisco IT" blog what they did in an article entitled "Preparing for World IPv6 Launch". Notice their steps:
Get buy-in at the CIO level
Choose an architecture/design
Assess the IPv6 readiness of network hardware, software, service providers and applications
Perform required upgrades
Enhance network monitoring software
Provide training on IPv6 to all employees
Test, test, test…
It's great to see Cisco providing a view into what they've done… and we look forward to connecting to their sites over IPv6 in two weeks!