This weekend, hundreds of people will begin converging in Geneva, Switzerland, for the Global INET event, celebrating the Internet Society's 20th Anniversary, listening to visionary keynotes and collaborating with others to shape the future of the Internet.
While there, attendees will also have the opportunity to ensure their laptops and mobile devices are configured correctly for IPv6 – and…
…to use an IPv6-only Wi-Fi network.
Once connected to the IPv6 Wi-Fi network, attendees will be able to test their IPv6 connectivity by visiting an IPv6-only website (and entering a contest while there). To help attendees, we will be providing there onsite a document explaining briefly how to configure IPv6 on typical laptops and mobile devices.
To create this IPv6-only WiFi network for a large event like this, our Internet Society IT team worked with  Swisscom.  This diagram shows the overall architecture (click on the image for a larger version):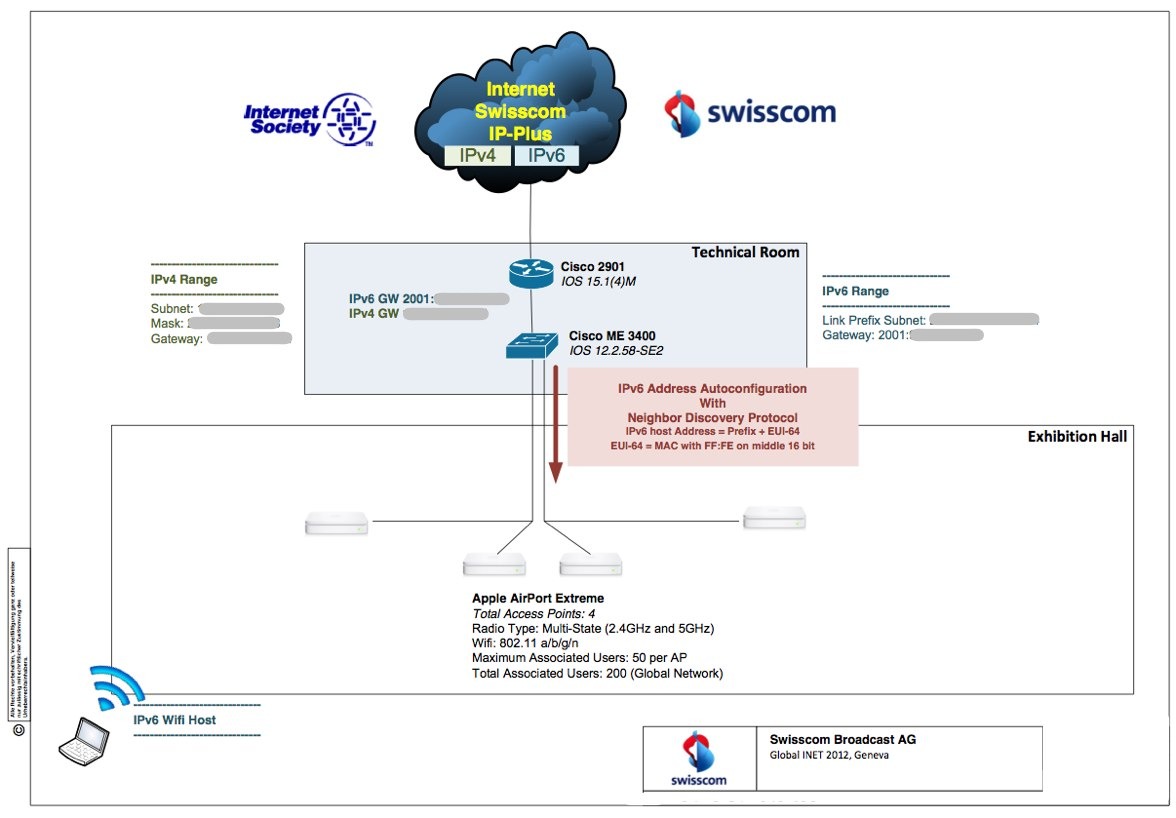 For the Internet gateway, we've configured a Cisco 2901 in dual stack mode. To restrict the network to IPv6-only, we have disabled IPv4 DHCP.  A few other notes:
Wi-Fi configuration:
For the Wifi access points we are using four Apple AirPort Extreme access points. These devices support connectivity on both the 2.4GHz and 5GHz bands. 802.11b/g/n is supported on the 2.4GHz band and 802.11a/n on the 5GHz band. Based on the IEEE 802.11n specification, AirPort Extreme uses a technology called multiple-input multiple-output (MIMO) to transmit multiple data streams simultaneously. A maximum of 50 WiFi users can be associated with each access point.
IPv6 LAN configuration:
DHCPv6 is not configured on the LAN. We use IPv6 address auto configuration (SLAAC) to discover the IPv6 parameters. The host uses the link prefix  + the EUI-64 address (MAC address + FF:FE) to construct the IPv6 address.
If you are going to be at Global INET, please do give the IPv6-only Wi-Fi network and try and let us know how it works for you.   We're looking forward to seeing Global INET attendees using the network next week!
---
Note: Peter Godwin of the Internet Society's IT team contributed to this article.