The Solar-Powered Internet Center Breaks Ground!
Dear Internet Society Family & Fellow Internet Society Grantees:
I am pleased to bring this second update to you, on behalf of our project implementation team, regarding the current status on the implementation of the solar-powered Internet kiosk at Loita Hills Academy in the Maasai Mara. If you missed my first post on this project, you can read it below!
The Learning Center broke ground on 11 October. In exactly one month, our team has built something extraordinary! John, our lead construction head, and his team, our architect Charles Newman, and volunteers from the community have all had to battle harsh obstacles.  They have had to ship in water from four hours away, which is no easy task. There are no roads in Loita, so getting lorries here is a massive undertaking. The Maasai warriors searched for weeks to find the perfect tree to replant inside our Learning Center. When they found it, they carried it over six kilometers! The women in charge of the bottle cap beading wall broke into three teams and made prototypes of different designs and beadwork. The community will vote this week on the design to be used. They counted and sorted over 70,000 bottle caps that had been collected from all over the world and shipped for free by FedEx!  They are constantly strategizing the most effective implementation for next week, when the concrete wall is ready for the decor, to carefully lay thousands of colorful bottlecaps into a Maasai-like pattern that will make this building unlike any other building in the world. The entire construction phase is estimated to be complete in 14 days. At that point, we will switch gears to the technology side and implement the solar-powered Internet kiosk. It is incredible to think this huge undertaking will be complete in less than two months of total time from start to finish.
| | |
| --- | --- |
| | |
Imagine an invisible part of the world, now visible through technology!
Our partners in this endeavor are: Internet Society, Greystone Aviation, Voices of Africa for Sustainable Development, Charles Newman Designer, Lil' MDGs, Adele's Literacy Library, Youth Service America, and FedEx.
On behalf of our Project Implementation Team,
Dylan Mahalingam | [email protected]
undertheacacia.org | loitahillsacademy.com | the7campaign.com
p:  +1 603 722 0414  or +1 917 968 5812  (USA) | +254 (0) 724 698 123 (Kenya)
f: +1 603 546 7830
Facebook  | Twitter
Posted: 7 November 2011 by Dylan
Progress on the implementation of the solar-powered Internet kiosk at Loita Hills Academy in Kenya
Dear Internet Society Family & Fellow Internet Society Grantees:
I am pleased to bring this update to you, on behalf of our project implementation team, regarding our progress on the implementation of the solar-powered Internet kiosk at Loita Hills Academy in the Maasai Mara.
In October 2011, Loita Hills, one of Kenya's most remote areas home to over 150,000 Maasai, will take one big step forward in remote community development. Under the Acacia, along with a team of experts, is working in tandem with the community to implement a groundbreaking model of connectivity, knowledge, and construction, certain to pave the way for future community development strategies across rural Africa. The Internet Society awarded a grant to Under the Acacia to implement a solar-powered Internet kiosk. The implementation is managed by  Under the Acacia with consulting from Voices of Africa for Sustainable Development (VOA4SD), and Lil' MDGs, along with other experts in this field. Two people from Loita were identified and hired as operators for the Internet kiosk, and they are currently undergoing a two month intensive training in computer management with VOA4SD. The kiosk will have specific hours for the students of Loita Hills Academy, for a vocational adult training program course, as well as for public usage (currently the nearest town with computer access is Narok, approximately 100 miles away). This initiative will also be an income generating activity (student and adult courses on monthly fees and public pay per minute fee structure) which will help sustain the monthly satellite usage fee ($150 a month) as well as the maintenance and further development of the program. A community board has been elected to oversee the success of this program. A Loita blog page will be created for the community to engage in and generate content to talk about their community growth on an open international forum.
Since the grant was awarded by the Internet Society, Designer Charles Newman came on board to design an innovative building (to be called Greystone Learning Center) to house the solar-powered Internet kiosk. This will host the laptop sever, the modem, the external hard drive with educational materials and have two users on the sides using a multiplier, so there will be three computers for the kiosk. The external hard drive will be loaded with over 100 educational CDs that will be accessible anywhere on the network. The network will stretch a minimum of 500 meters with a possible 1 kilometer depending on the signal strength. With the wireless system, Internet will be resold in the community at very low prices with a large data cache so the community can download and save their information for free access. The price of the internet is 1 Ksh per minute with 50% going directly back to the community. The goal is to sell 800, one-hour cards per month. We believe this is a completely achievable goal and would make the center long term self-sustaining. Thus becoming a model to the community!  This initiative will generate both employment opportunities and income generating activities for the community's future development.
In addition to the solar-powered Internet kiosk, the Greystone Learning Center will also house a full library, as well as be a gathering space, with designated areas both inside and outside to learn and share knowledge.   Charles' design will incorporate indigenous building strategies and local design aesthetics that are unique to the Maasai tribe, ensuring a cost efficient and durable structure that can be easily replicated.  Moreover, the design of the building will celebrate the iconic jewelry of the Maasai, and will be built as a large scale of Maasai jewelry designed by the women of the Loita community.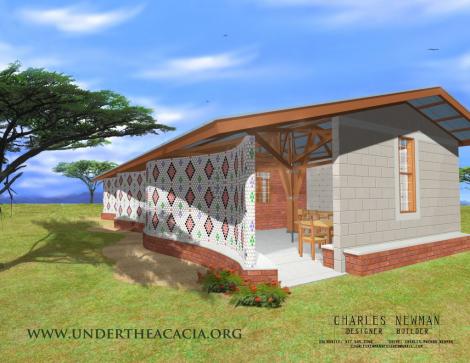 Designer Charles Newman is changing up the approach to rural development and construction practices in remote Africa. This will be no concrete box. By encouraging the creative energies of the Maasai women, the building will become their piece of art – inspired by their intricate jewelry and regional identity. A campaign called, "15,000 Bottle Caps for Africa" was launched worldwide on Facebook, social media platforms and in participating bars and restaurants to encourage others to save their bottle caps from drinks and help the Maasai women build this incredible feature wall. You can view a video made by our designer, Charles Newman, for the 15,000 Bottle Caps for Africa Campaign!  I would like to take this opportunity to urge the Internet Society family and fellow Internet Society fellow grantees to check this campaign out. We would love to hear what you think!
In essence, the Greystone Learning Center initiative and implementation of a solar-powered Internet kiosk in remote Kenya  are true testament that there are no limitations to creative and sustainable development in rural Africa. This project breaks ground in October 2011!
In August 2011, Under the Acacia and VOA4SD visited the project site to meet with the community members as well as students of Loita Hills Academy to answer questions about the solar-powered Internet kiosk. Community members were encouraged to ask questions. The presentation was well-received. The community is now eagerly awaiting the opening of the Internet center. I am happy to share with you the following photos from this memorable visit!
Under the Acacia, a 501(c)(3), partners with remote communities that do not have their basic human needs addressed, invests in the initial implementation, and together with the community, strategizes achievable solutions to implement infrastructure and sustain growth. Under the Acacia has been working with the Loita community since 2009 on sustainable community development initiatives, successfully implementing education, healthcare, water, sanitation, food, employment and income generating activities that are now fully maintained by the community.
Our partners in this endeavor are: Internet Society, Greystone Aviation, Voices of Africa for Sustainable Development, Charles Newman Designer, Lil' MDGs, Adele's Literacy Library, Youth Service America
On behalf of our Project Implementation Team,
Dylan Mahalingam | [email protected]
undertheacacia.org | loitahillsacademy.com | the7campaign.com
p:  +1 603 722 0414  or +1 917 968 5812  (USA) | +254 (0) 724 698 123 (Kenya)
f: +1 603 546 7830
Facebook  | Twitter
Posted: 3 September 2011 by Dylan