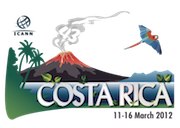 Will you be at the ICANN 43 meeting taking place in San José, Costa Rica, in March 2012?  If so, on Wednesday, March 14, 2012, there will be a "DNSSEC Workshop" bringing together people to discuss current and future DNSSEC deployment.  Information is not yet available on the ICANN 43 website, but the call for proposals indicated that they were seeking talks on:
1. DNSSEC activities in Latin America

2. The realities of running DNSSEC

3. DNSSEC and the Finance Industry

4. When unexpected DNSSEC events occur

5. DNSSEC in the wild

6. DANE and other DNSSEC applications
I (Dan York) will be there in Costa Rica at the session and am definitely looking forward to joining in the conversation and listening and learning.  If you will be there at the session, please do say hello (or drop me a note in advance).  You can also expect to see information posted here to our blog coming out of that session.
P.S. If you want to attend, there is still time to register for the ICANN 43 meeting.  I'm told the DNSSEC Workshop will also be streamed live. As soon as we have the live-streaming information we'll post that here.