Championing Data Privacy & Protection to Enhance Consumer Trust 
We promote security standards, responsible privacy practices, and related tools to help organizations protect their data and be prepared for a data loss incident. The Cyber Incident & Breach Trends Report summarizes findings and explores key trends seen for cyber incidents in 2017.  The analysis and commentary is not limited to data breaches alone, but extended to include ransomware, business email compromise (BEC), distributed denial-of-service (DDoS), and vulnerabilities created by IoT devices. As defined by OTA researchers, incidents include unauthorized: 1) access to a system or device and its data,  2) extraction, deletion or damage to any form of data,  3) disruption of availability and/or integrity of any business operation, and/or 4) activities causing financial or reputational harm.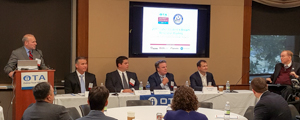 Our work helps organizations of all sizes in both the public and private sector. Content helps aid a broad set of stakeholders, ranging from business and technical decision makers and privacy and security professionals to web and app developers. The goal is to help readers better understand the issues and solutions that can enhance their data protection practices and enable them to develop readiness plans in the event they incur a data loss incident.  
Even the most cyber-savvy organizations have found themselves exposed and ill-prepared to manage the effects of a data breach. The best defense is implementing a broad set of operational and technical best practices that helps protect your company and your customers' personal data. The second step is to be prepared with a data lifecycle plan that allows a company to respond with immediacy. Ultimately, industry needs to understand that effectively handling a breach is a shared responsibility of every functional group within the organization. A key to success is moving from a compliance perspective to one of stewardship. This perspective recognizes the long term impact to a brand, the importance of consumer trust, and implications and considerations with vendors and business partners.
---
Cyber Incident & Breach Trends Report (released January 25, 2018)
2018 Data Privacy & Protection Day Press Release (January 25, 2018)