Image: Vyria Paselk-Director of Internet Leadership at the Internet Society and Kathleen Moriarty-Kathleen Moriarty, Security Area Director at the IETF 
Women represent 51% of the global population, yet the statistics for women in technology are not even close to equal (some reports estimate only 26% of the computing workforce are women).
In order for the Internet to be useful for ALL we need more women shaping the future of the Internet. One organization who is working to close this gap is the Anita Borg Institute (ABI). The Internet Society has partnered with ABI for the past four years to get more women involved in technology and to get more women involved with the Internet.
Twelve thousand women from around the world gathered in Houston, Texas in October 2015 for the Grace Hopper Celebration of Women in Computing conference. I was one of those 12 thousand women. I work specifically to get more young people involved in shaping the future of the Internet and I'm proud that ISOC is committed to getting more women involved in helping make the Internet work for ALL.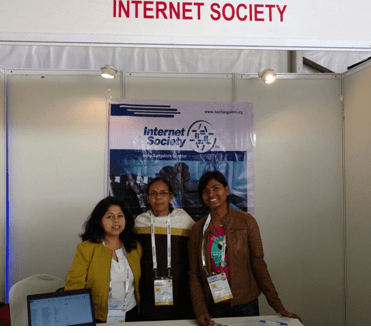 Internet Society sponsored attendees at Grace Hopper India. From left to right: Amrita Choudhury, Mini Ulanat, and Suprita Lnu 
ISOC was a nonprofit gold sponsor of #GHC15 which celebrates and expands on opportunities for women in computing. As an organization we are committed to supporting and attending this event to raise awareness for our IETF fellowship programme available to technical women from emerging and developing economies (see more detail below). The conference gives us an opportunity to speak with highly qualified women interested in Internet specific technical work and encourage them to apply for the fellowship and/or share it within their companies, universities, and networks.
ISOC was also a bronze sponsor for the Grace Hopper Celebration of Women in Computing (India) conference held in Bangalore in December  2015. ISOC sponsored three technical women from our community to attend India's largest gathering of women technologists. On the ground support was also provided by our ISOC Bangalore chapter. Our sponsored participant from Delhi had this to say about her experience:
Grace Hopper India was a wonderful platform for meeting, hearing and exchanging views with other women in technology. The conference provided great insights on how women have overcome obstacles and attained success in the field of technology.
I'm proud that ISOC realizes the importance of women's voices in technology and I'm proud to be part of ongoing efforts to help encourage more women to take advantage of the opportunities available to make an even greater global impact!
ISOC will once again be a sponsor of the Grace Hopper Celebration of  Women in Computing Conference in Houston and we hope to see you there!
More on ISOC's Fellowship to the IETF
The Internet Engineering Task Force (IETF) is the world's premier open Internet standards-development body. The Internet Society Fellowship to the IETF is available to technology professionals, advanced IT students, and other qualified individuals from developing and emerging economies.
Fellows to the IETF attend an IETF meeting where they are paired with an experienced mentor and are expected to make a positive contribution to IETF work. Find out how to apply for an IETF Fellowship.
More on the Grace Hopper Celebration and the organization behind it
The Anita Borg Institute for Women and Technology (ABI) was founded in 1997 by renowned computer scientist Anita Borg, Ph.D. (1949-2003). Co-founded by Dr. Anita Borg and Dr. Telle Whitney in 1994 and inspired by the legacy of Admiral Grace Murray Hopper, the Institute's Grace Hopper Celebration (GHC) Of Women In Computing Conference is designed to bring the research and career interests of women in computing to the forefront. It is the largest technical conference for women in computing and results in collaborative proposals, networking, mentoring for junior women and increased visibility for the contributions of women in computing. Conference presenters are leaders in their respective fields, representing industry, academia and government. Top researchers present their work while special sessions focus on the role of women in today's technology fields.