Message from the Regional Bureau Chief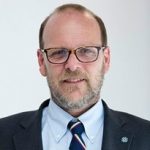 2018 was a year of changes and evolution for our organization. Therefore, the first weeks of this year were the right occasion to look into the future and determine our focus areas for 2019. The diversity of our region invites us to prepare to implement the Annual Plan of the Internet Society, while we lay the foundations to participate in the debates that will take place in the years to come.
I have no doubt that, together with our vibrant community of chapters and members, we will make significant progress in favor of an open, globally-connected, secure, and trustworthy Internet for everyone.
Sebastián Bellagamba, Regional Bureau Chief, Latin America and the Caribbean
From the staff: Our four focus areas
Our Annual Plan 2019 is based on what was achieved during 2018 and previous years. In this way, four focus areas stand out, which represent what we do. We also included the elements that distinguish the way we work: with a collaborative approach, a strong narrative and creating community.
We invite you to review our Annual Plan and join our efforts!
Stories from our Chapters
Our Chapters in Latin America and the Caribbean form a vibrant and diverse community that is constantly active.
On January 25, the Trinidad and Tobago Chapter was part of the Internet Governance Forum in that country. Shernon Osepa, Regional Affairs Manager, participated on behalf of the Regional Bureau for Latin America and the Caribbean.
On February 5, the Argentina, Haiti, Honduras, Mexico and Dominican Republic Chapters carried out various activities to celebrate the Safer Internet Day.
In addition to these activities, the Colombia, Mexico, Panama, Puerto Rico and Trinidad and Tobago Chapters have undertaken various efforts in their communities. Activities range from capacity building to advice to regulatory bodies with great success.
Read here all the stories of our Chapters!