The Amsterdam Internet Exchange(AMS-IX) in The Netherlands has had IPv6 in operation since 2001. They're essentially IP version agnostic since they offer only layer 2 forwarding services. However, they must assign IP addresses to the BGP peers on their network. Since 2001, operators have been able to receive IPv6 addresses from AMS-IX.
As a major peering point on the Internet, AMS-IX provides an important look into the growth of IPv6 traffic. Between 2012 and 2014 IPv4 traffic on AMS-IX grew 60%. In the same period IPv6 traffic grew by 378%. For more amazing facts about the growth of IPv6 at AMS-IX check out Maksym Tulyuk's slides from his presentation at ENOG 7: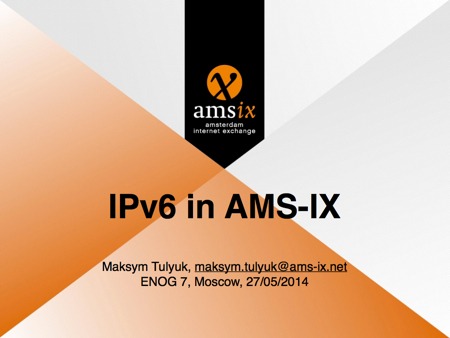 Additionally, AMS-IX makes IPv6 statistics available that show the daily, weekly, monthly and annual volume of IPv6 traffic going through the IXP. Here, for example, is the annual IPv6 traffic flow as of June 6, 2014: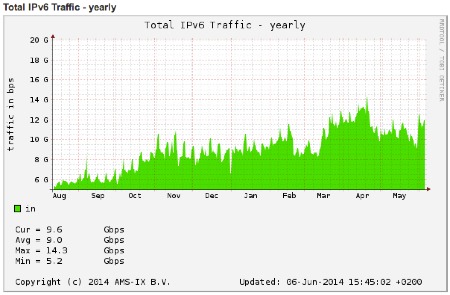 ---
Please visit our IPv6 Case Studies page for more examples of IPv6 deployment. If you would like to get started with IPv6, please visit our IPv6 resources or begin with our "Start Here" page to help find resources most appropriate for your type of organization. If you have an IPv6 case study you think we should consider for inclusion on our site, please contact us – we are always looking for more!
---