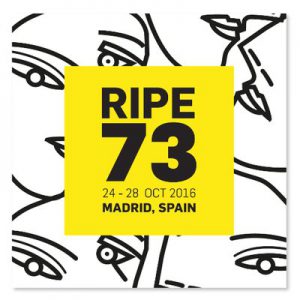 The RIPE 73 meeting is happening next week in Madrid, Spain, kicking off with a couple of tutorials on the Monday morning, before the opening plenary starts at 15.00 CEST/UTC+2. And there's a lot on the programme of interest if you're following the Deploy360 technologies, as both Jan Žorž and Kevin Meynell will be.
In the opening plenary, the results of the IPv6 Deployment Survey on residential and household services undertaken by Consulintel will be presented, followed by an analysis of Carrier-Grade NAT (CGN) from Philipp Richter (TU Berlin). Then check out the state of IPv4 transfer markets with Ioana Livadariu (Simula Research Laboratory).
Jan will then be chairing the BCOP Task Force on Monday evening starting at 19.00 UTC+2. This will discuss progress on documenting best current operational practices, with three BCOP documents up for discussion including a new MANRS BCOP. As ever, the Task Force is also looking for volunteers to help support the task of writing the documents and achieve consensus within the group.
On the Tuesday morning, there's a focus on anycast, with four presentations covering different aspects of this. The afternoon is devoted more to network security, data protection and privacy issues, although there will also be a panel chaired by Leslie Carr on the unique financial challenges of smaller IXPs
Wednesday and Thursday are traditionally devoted to Working Groups, and as usual we'll be following the IPv6, DNS and Routing Working Groups and reporting on developments there. It's also worth noting there's also an open mic  session on the Internet-of-Things between 19.00 and 20.00 UTC+2, which aims to discuss what role RIPE can play in this space and whether the RIPE community's expertise can be put to good use in safeguarding the security and stability of the Internet.
Finally on Friday, there will be an update on IPv6 performance from Geoff Huston (APNIC) which always makes for interesting listening.
There are already over 600 registered attendees, so it's sure to be a busy and productive week. For those of you who cannot attend in person – there is remote participation available with audio and video streaming and also a jabber chat room, so everyone is welcome to participate!
The full programme can be found at https://ripe73.ripe.net/programme/meeting-plan/