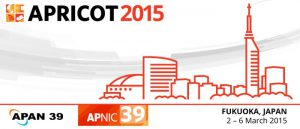 Last month, for the very first time, we held a Best Current Operational Practices (BCOP) meeting at APRICOT 2015, the Asia Pacific Regional Internet Conference on Operational Technologies. The BCOP BoF ended up being at the exact same time as the Operators and the IETF BoF, however it turned out really well with great participation.
A BCOP is a living document describing the best operational practices currently agreed on by subject matter experts. BCOPs are vetted and periodically reviewed by the global network engineering community (GNEC). Groups around the world have formed to find, create, and share these documents in an open, transparent, bottom-up, and community-led manner. This BCOP BoF at APRICOT 2015 marked the Asia Pacific region adding support for this effort.
First, Fakrul Alam gave an overview on Best Current Operational Practices, why they're important, and how this BCOP initiative works. Fakrul also discussed efforts and activities taken by regional BCOP chapters and groups. The audience was very vibrant and began a discussion on whether they should start BCOP initiatives more locally or regionally? Most of the participants thought it should be initiated locally (at a NOG or related platform) and gradually move to be more regional. Discussion continued on the BCOP documentation process and existing BCOP process drafts.
The session ended with a very positive response from the Bangladesh Network Operators Group (bdNOG), as they showed interest in forming a local BCOP Task Force. They also plan to do a session on existing BCOP documents at the upcoming coming bdNOG event (bdNOG3). This will create some awareness among the community and find potential candidates for the global network engineering community (GNEC).
There's plenty of time to get involved! If you would like more information about this program or would like to have the topic presented at a network operator group in your region, please contact us at [email protected].