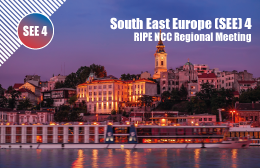 This Tuesday and Wednesday (21-22 April), the fourth South East Europe RIPE regional meeting (SEE4)  takes place at the hotel Metropol Palace in Belgrade, Serbia. The agenda is packed with talks on Internet Governance, IPv6, how to create regional Network Operator Groups (NOGs), Internet security, IXPs, and more.
A continuation of the last three meetings (Dubrovnik, Croatia; Skopje, Macedonia; Sofia, Bulgaria), this event is growing and becoming a more and more important – if not main – technical and operational Internet forum in the region.
This forum provides an opportunity for network engineers and other technical staff to share knowledge and experiences, and to identify areas for regional cooperation. The meetings are open to anyone and there is no cost to attend.
The goals of this meeting are to:
Encourage the cooperation of operators from countries in the region, enabling them to exchange information and discuss the issues that affect them
Enable the RIPE NCC to further support Local Internet Registries (LIRs) in the region
Present the latest developments in the Internet industry and to identify, discuss, and solve the specific issues that affect operators working in this region
This time we got numerous submissions to the meeting Program Committee, so we had an opportunity to put together a really appealing agenda with high quality presentations scheduled for both days of the meeting.
Currently we have 278 attendees registered (a record so far!) and if everybody shows up we'll have a completely packed room (with a high probability of people standing on the sides), but never mind – if you are in Belgrade and did not register yet – please do so and we'll see you on Tuesday for 4th SEE meeting!