It's a bit late-notice for many of you, I realize, but in about 1.5 hours at 12 noon US EST (17:00 UTC) today, the "IP Communications & VoIP Community" will be having a Google+ Hangout on Air on topic of "MoreCrypto: Moving the Web to HTTPS". Given that this relates to our TLS For Applications topic area, I thought it might be of interest – and I'm intending to join myself.  For more info and the link to watch just click/tap the image: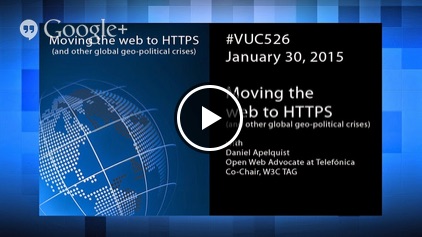 As noted on the VUC episode page, the speaker is:
Daniel Appelquist, who describes himself as an "open web advocate", joins us to talk about TLS on the web: some good reasons for using it and the common objections to it. As someone with a very wide experience in IP and network communications, a session with Dan and our VUC regulars should be excellent!

Dan is also a co-chair of the W3C Technical Architecture Group (W3C TAG). The TAG is a special working group within the W3C, chartered (under the W3C Process Document) with stewardship of the Web architecture.
The session will be recorded for later viewing at that same link.