On 14-15 April, we held the SEE3 RIPE Regional Meeting in Sofia, Bulgaria with 229 attendees from 19 different countries. The agenda was packed with good content – kudos to the SEE3 program committee for all the good work in shaping such a great agenda. I co-chaired the opening Plenary with Paul Rendek and also gave a presentation about RIPE-501/554, followed by the announcement of draft-00 of our new "IPv6 troubleshooting for helpdesks" document. We decided to store all the drafts on a dedicated page on the Go6 Institute web server for the project, just adding new versions to the bottom.
The result was astonishing. After posting the draft to two RIPE mailing lists and Ivan Pepelnjak publishing a blog post about it, we recorded 751 downloads of the 00-draft just on 14 April alone! That means 751 people are reading the document and we can expect comments, feedback and suggestions soon! (Right?!)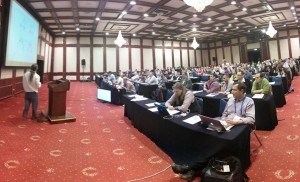 On 15 April, I did a Lightning Talk about our other project, enhancing operator feedback into and participation in the IETF. Many attendees told me that they have already filled out the survey even before I finished my presentation and went off stage…
We have already announced information about SEE4 meeting – it's happening in Belgrade, Serbia, on 21-22 April 2015. As the SEE3 chairman I've issued an early call for Program Committee volunteers, so we are now forming a new SEE4 Program Committee. I'm really looking forward to the challenges, efforts and hard work that will help us repeat such a success in Belgrade next year!