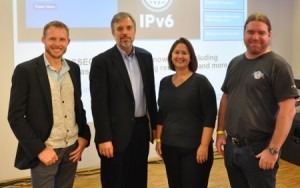 Will you be at IETF 89 next week in London?  If so, please feel free to say hello to one of our team members there.  We'll all be there: myself (Dan York), Chris Grundemann, Megan Kruse and Jan Žorž.
You can expect to find at least one of us in any of the sessions that relate to IPv6, DNSSEC or securing BGP.  Specifically, some of the sessions we'll be at can be found in these posts:
We're always interested in talking to people about the work we do here and also how we can help you get these technologies more rapidly deployed.  Got a question for us?  Find us at the IETF sessions and let us know.
You can also send an email to us at "[email protected]" if you'd like to set up a time to meet.
See you in London!