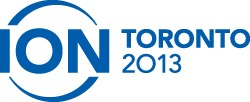 One week ago today we were in Toronto for our last ION Conference of 2013. I'm pleased to say it was a FANTASTIC event, with about 150 attendees and really great audience participation.
All of the day's presentations are available from the main ION Toronto agenda page. We've also posted some photos to our Flickr site. The video of the whole event is on YouTube and embedded below, and we'll slice and dice it into individual sessions soon.
A huge thank you to everyone who joined us in person or via the webcast (especially if you joined us over IPv6!). It was a great event thanks to our co-location partner, the Canadian ISP Summit. This was our second ION Conference at the ISP Summit, so it was nice to see some familiar faces and learn about what's happening in Canada.
Our industry experts lead interesting discussions, shared important lessons learned in the deployment of new technologies, and provided insight into the future of the Internet networking landscape. The audience provided excellent questions and spurred discussion amongst the panelists, as well.
We'd love to hear your feedback on these sessions or the ION Conferences as a whole. We're planning our 2014 events now, so your thoughts and ideas are always welcome to help us improve future events.
We'll see you on the road next year, and of course on our social media channels until then!