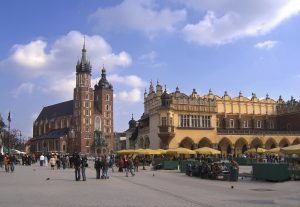 We're just one week away from ION Krakow! This ION Conference will take place the afternoon of 30 September at the Galaxy Hotel in Krakow, Poland. This time we're co-locating with the Polish Network Operators' Group (PLnog).
We're building on the success of our past events, where we had industry experts from across the globe answer your specific deployment questions and provided a mix of high-level strategic discussions, real-world deployment experiences, and hands-on technical training. ION Conferences also help us get your direct feedback on what else you need to get started so that we know what new resources to add to the Deploy360 site next.
Registration is still open for the full event! We have a limited number of free passes for the entire PLNOG event, including the ION Conference, available to Internet Society members. Contact us to register, and please include your Internet Society membership number in your message. Passes are first-come, first-served. 
We also have a discount code for the PLNOG registration fee. Please use code "ion_25″ for a 25% discount on an all-inclusive registration pass.
Here's an overview of the agenda and speakers. (PLNOG has a medieval theme this year, so you'll see we had a bit of fun with our session titles!)
An ISOC Poland Overview of the Local IT Landscape

Marcin Cieślak (ISOC Poland)

Slaying the Two-Headed Beast: Challenges and Triumphs of DNSSEC

Moderator: Dan York (Internet Society)
Panelists: Frederic Cambus (StatDNS); Krzysztof Olesik (NASK); Patrik Wallström (OpenDNSSEC)

Fortifying the Castle: An Update on Global IPv6 Deployment
Routing Around Catastrophe

Moderator: Ivan Pepelnjak
Panelists: Łukasz Bromirski (Cisco), David Freedman (Claranet), Adam Grodecki (Huawei)

Protocols of the Round Table: BCOP Efforts Update

Jan Žorž (Internet Society)

Global IPv6 Tournament: Who will take the IPv6 Crown?

Moderator: Jan Žorž (Internet Society)
Panelists: Ian Farrer (Deutsche Telecom), Bartosz Gajda (PIONIER), Chris Grundemann, Krzysztof Siliki (NASK)
If you'll be in Krakow, please join us and let us know on Facebook, Twitter, or Google+ (using the hashtag #IONConf), or email us.
If you can't be there in person, the webcast link will be available here.
We hope to see you out there!