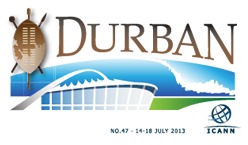 Interested in sharing your experience implementing DNSSEC?  Have a new tool or service for DNSSEC you would like to demonstrate? Are you experiencing a challenge with getting DNSSEC implemented that you think the larger community should be aware of? Have you found a new and interesting use for DNSSEC?  Or done something new with the DANE protocol?
If so, and if you are planning to attend ICANN 47 in Durban, South Africa, the program committee (of which I am a member) for the DNSSEC Workshop at ICANN 47 is actively seeking proposals to include in the workshop.  As noted in the Call For Participation, we are seeking presentation ideas on topics such as:
DNSSEC Activities in Africa

The Operation Realities of Running DNSSEC
DNSSEC and Enterprise Activities
When Unexpected DNSSEC Events Occur
Preparing for Root Key Rollover
DNSSEC: Regulative, Legislative and Persuasive Approaches to Encouraging Deployment
DANE and Other DNSSEC Applications
Use of DNSSEC in the Reverse Space
Please see the Call For Participation for more details.
We are also open to presentations related to DNSSEC that don't fit exactly in one of these listed topics.  We've already got a great list of presentations but we still could add a few more.
You can view the program and presentations from the ICANN 46 DNSSEC Workshop in Beijing to understand the kind of presentations we are seeking. I'll note that we're changing the format a bit for ICANN 47 to have fewer presentations for longer periods of time. We felt it was a bit rushed in the Beijing workshop.
If you are interested, all you need to do is send a brief description (1-2 sentences) of your proposed presentation to [email protected], ideally by today, June 10th, as we are working to finalize the program to publish it on the website.
Thanks – and we're looking forward to another great event in Durban!  If you are not able to attend in person, the event will be streamed live and also archived for later viewing.