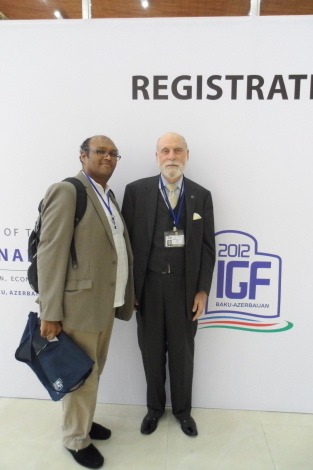 As we carry on with the different sessions which is slowly picking up. Some eminent personalities are starting to appear. That is me with Vint Cerf. We had some interting discussions about internet and the way things are moving and how the future is looking like. But all to all meeting some people and discussing on burning issues which are really important to all of us such as WCIT and so on and so forth.
The importance is that of being able to talk and discuss about serious matters and meeting people to broaden the network and ensuing that the way forward is going on. Right now i just changed from two interesting sessions "Francophone IGF dialogue" where my good friend Anne Rachel is moderating the dicsussions and into another slot to "The Privatisation of Censorship: the online responsibility to protect free expression".
This is too close but managing the time in between can be painful but we will eventually make way for the important discussions. I just nevertheless heard from the ISOC booth that customs in Azerbaijan has actually blocked some of the equipment for the ISCO booth.
But we're keeping our fingers crossed.
Kris