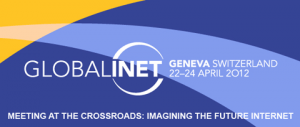 We are gearing up to participate in the Internet Society's Global INET next month in Geneva, from 22-24 April. Two of us (Richard Jimmerson and Megan Kruse) will be there and would love to chat with you – just drop us an email or ping us on Twitter.
This is sure to be an excellent conference to celebrate the 20th anniversary of the Internet Society and look forward to the next 20 years and getting the next billion people online. There's an impressive lineup of speakers, including policy makers, technologists, government representatives, and business executives from around the globe. There are a lot of interesting sessions on the agenda, but we're particularly looking forward to two events that week.
First, we'll be part of a session during the (invitation-only) Global Chapter Workshop. The Internet Society has Chapters all over the place, and many Chapter representatives will be in Geneva to discuss possibilities for local action and learn more practical implementation ideas they can take home to their regions.
In our part, we'll describe the Deploy360 Programme, but we're also hoping to learn what local Chapter activities are already underway to promote IPv6 and DNSSEC as well as what resources our local Chapters need that we may be able to find or create and add to this portal. (As always, if you have ideas on this we're all ears!)
Second, we're very excited about Session 2.3, "Collaboration: The Key Ingredient for Advancing Internet Innovation" where a truly impressive list of panelists will discuss how technologists and policy makers can work together to advance the Internet as well as how we can move from design to the real-world deployment of things like IPv6 and DNSSEC. From the session abstract:
DNSSEC, IPv6 and new gTLDs are a few of the standards and technologies involved in the long collaborative process that takes the world from design to deployment. This part of the session will address the challenges of working in an environment where participation is open to all technical experts and standards-based deployments are voluntary, while meeting the needs of diverse users and the evolving network.
What are the challenges for the multi-stakeholder community in advancing technological deployments? 
How do we detect consensus on new protocols across a range of voices?
How do we promote technology updates imperative to the health of the Internet when they lack a clear short-term business rationale?
There's still time to register for the event if you'd like to attend in person. If you'll be there, let us know – we'd love to hear your thoughts!